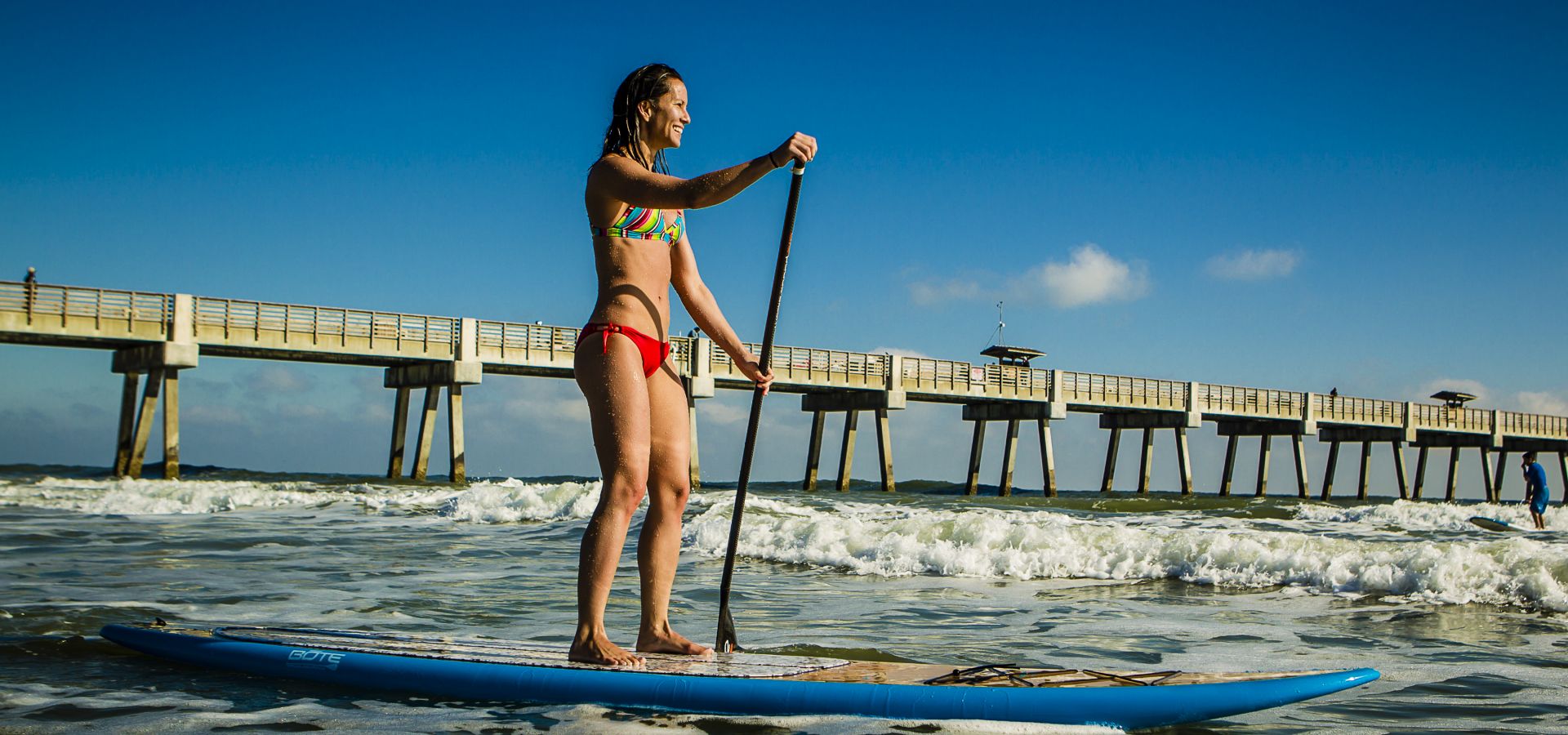 It's been a nice and mild winter here in Northeast Florida, but I am sure we are ready for the happy times the spring brings to Jacksonville Beach! The spirit of the beaches becomes more vibrant and cheerful, the birds are chirping, the flowers are blooming, and locals and visitors alike are enjoying all of the outstanding events hosted in Jacksonville Beach. From art walks to fitness events to music festivals, there's something for everyone to join in on the fun!
Below you'll find the guide highlighting the events we think are the most fun that take place from March to the end of April.
Jax Beach Art Walk
Second Tuesday of Every Month
Join Better Jacksonville Beach in the showcase of talented local artists, musicians, and local businesses for this family-friendly event. The Jax Beach Art Walk stretches all along 1st Street from Beach Blvd to 5th Ave N. Join the community and its creative residents every second Tuesday from 5 p.m. to 9 p.m.
Visit http://www.betterjaxbeach.com/ for more information.
Salt Life Festival
Saturday, March 18
The Salt Life Fest is going to be rocking with the incredible lineup of artists! This year's festival features Rachel Warfield, Porch 40, Dead 275, Ramajay Intercoastal, and many more. Join Salt Life at the Seawalk Pavilion ocean side at its 2nd annual celebration of the Salt Life lifestyle at this free, and family-friendly event from Noon to 10 p.m.
Click here for more information.
Jax Beach Classic Car Cruise
Third Tuesday of Every Month
Whether you have a classic car or not, come out and admire the classic cars of the Jacksonville Beach community. What's awesome about this event is the cooperation with the Jacksonville Beach Police Department to have the classic vehicles on display in Latham Plaza. This event is a free and held on the third Tuesday of every month from 5 p.m. to 8 p.m.
Visit http://www.betterjaxbeach.com/ for more information.
Springing the Blues Festival
Friday, April 7 through Sunday, April 9
One of the many spring festivals hosted at the Seawalk Pavilion in Jacksonville Beach, Springing the Blues hosts national, regional, and local blues artists on two stages during this free, family-friendly three-day festival. Join the fun with family and friends from 12 p.m. to 10 p.m. There will be a food court, artisan market, and kids area on site to ensure that everyone has a great time at the festival!
Visit http://springingtheblues.com/ for more information.
Never Quit 5k
Saturday, April 15
Never Quit is a fitness event hosted in Jacksonville Beach with a focus on health, determination, American and U.S. Military pride, and the never quit attitude. Never Quit is one of the largest family fitness events where the whole family can participate in the 5k Race or even the 1 Mile Fun Run.
For more information, visit http://www.neverquitnever.com/
Jacksonville Beach Easter Egg Hunt
Saturday, April 15
Join the city of Jacksonville Beach at Sunshine Park for the Annual Easter Egg Hunt! The event starts at 10 a.m. and is open for children up to 8 years of age. Please make sure to bring a basket or tote to carry your eggs.
Click here for more details on the event.
Easter Sunrise Service
Sunday, April 16
        Join Presbyterian Church and Beaches Ministerial Association for the Easter Sunrise Service at the Seawalk Lawn and Stage area from 6 a.m. to 9 a.m.
For more information, please call (904)249-8698.
71st Opening of the Beaches Parade
Sunday, April 30
Join the parade at the beach as we gear up for summer! This event is especially fun because of everyone, businesses and individuals alike, coming together and celebrating the tight-knit community of Jacksonville Beach. The event takes place on 1st and 2nd Streets and begins at 2p.m. Deadline to register for the parade is March 31st, don't miss out!
Visit the event's Facebook Page for updates and more information on how to join the parade.