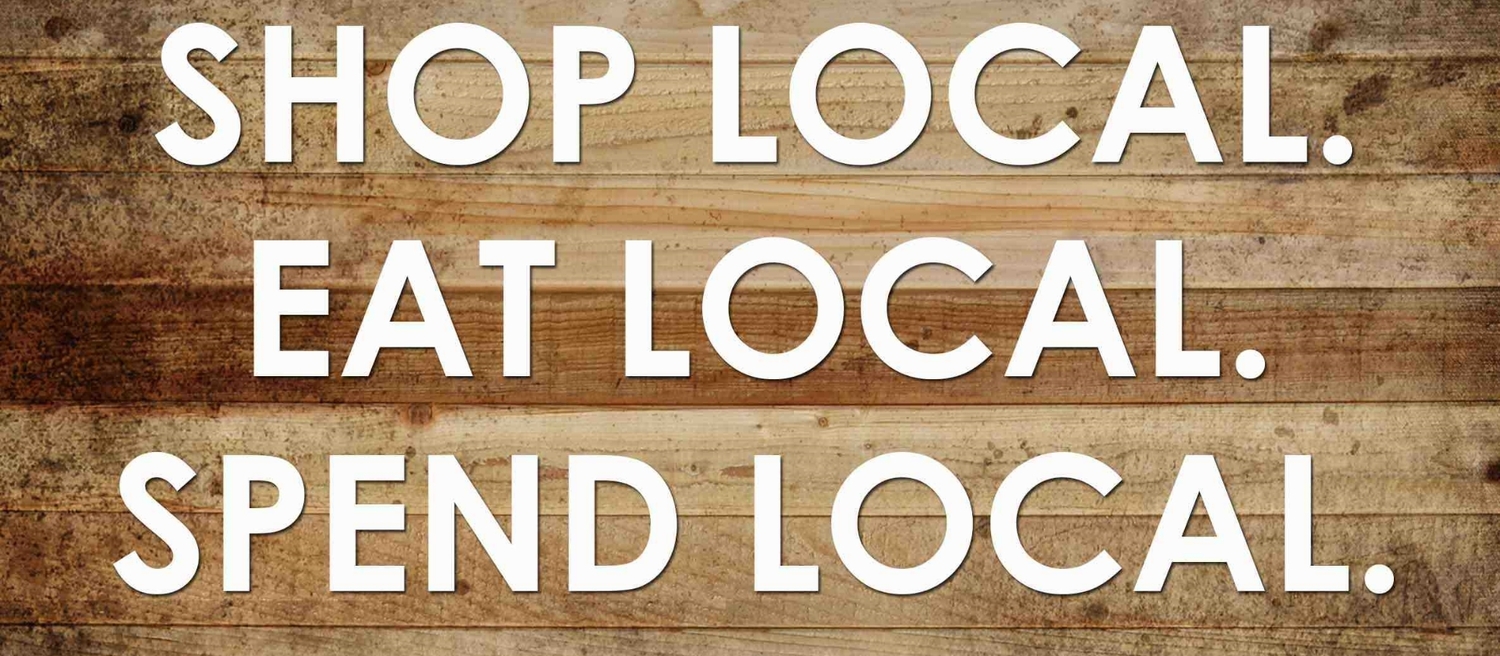 I'm sure you've heard of "Small Business Saturday", or perhaps you have seen pins or stickers that proudly display "shop local" or "shop small", but have you fully considered the meaning of this movement? With the holidays right around the corner, it can be tempting to hit up the latest deals at your nearest department store or perhaps brave the crowds at your local Town Center. But have you stopped to think about where your dollars are going? Sure, you may have scored the latest and greatest "Batman Vs. Superman Epic Strike Batmobile" for your son, or maybe you took the less stressful route and picked up a Sephora gift card for your picky fifteen-year-old daughter, which is great, but did you know that holiday shopping can be enjoyable for YOU as well? (Gasp!)
I like to call this "shopping with a purpose". Since around 2009, (at least that's when I started hearing of it) there has been a big "shop local" movement, and I love it. I enjoy shopping local because my community of Jacksonville Beach is worth it. Also, it's a lot more pleasant. There is no comparison to purchasing goods from someone who is truly thankful that you have taken the time to stop by their business, and to make the decision to spend some of your money there, verses going through the checkout line at a large retailer. The head-down, no eye contact mumbling "didyoufindeverythingok", while being hurried through to swipe your card (I know that many large businesses have wonderful employees, but let's face it; you can spend $1 or $100, and it normally does not impact their paycheck. I've been there. I've done my time.) does not hold a candle to the "Hello! Thank you so much for coming in! We are so glad you picked this out. It is one of our favorite pieces, and we hope you enjoy it!"
Local business owners appreciate you. They appreciate their community, and they want to be friendly neighbors. Did you know that small business owners are also more likely to donate to local charities and events? What does this mean for you? This means that every time you make a purchase, a good percentage of your dollar goes back into the community. How awesome is that?! Informationstation.org states that "when you shop at locally owned, independent businesses, more money is kept in the community because local businesses often purchase from other local businesses, service providers and farms. Buying locally helps grow other businesses as well as our region's tax base. Non-Profits Receive Greater Support."
Here is something else to consider, especially when gift buying. Small businesses offer uniqueness. These owners carefully select what is offered in their store, because it directly reflects them. You will find goods that are unlike anything you will see in a department store. Remember, these businesses were opened because their owner had passion, a taste, and a vision. Quality takes great importance over quantity.
In a nutshell, shopping local, whether it be a clothing store, a gift shop, a goods and produce market, a restaurant, and even a brewery or coffee shop, has a bigger impact that you think! It's a win win win. You get awesome unique items, the owner's business prospers, and the community becomes stronger. Also, this open a great opportunity to meet your neighbors!
Jacksonville beach and the surrounding areas has a great selection of locally owned businesses, and they are definitely worth checking out. Here are a few places that I have checked out, and I highly recommend stopping by.
Watts Juicery– If you like cold-pressed juices, or if you're looking for a burst of natural, organic energy, this place is great. The owner, Annie Tuttle created Watts Juicery after her mother was diagnosed with cancer. She stated "Although my mother lived with cancer for over two decades, she was able to keep a positive outlook on life, as a result of her healthy lifestyle and philanthropic commitments." Tuttle is inspired to educate the community on the importance of healthy living. She also partners with non-profit organizations, such as The Donna Foundation, BEAM, and PedsCare. I love Watts, because the staff is always so friendly and attentive. They take the time to describe the flavors of each juice selection, as well as what each one can do for your body. They also offer "Watts Shots", which are concentrated concoctions of natural ingredients that can help with ailments such as the cold, or flu. Check them out, as well as their blog at wattsjuicery.com
Really Good Beer Stop- Some people like cold pressed juice. Some people like beer. We like both. What do we love more than just beer? GOOD beer! Created by the awesome husband and wife team of Tim and Angie Brack, they wanted to make craft beer something that you could take home, instead of only being able to enjoy it in a bar. Really Good Beer Stop is Jacksonville Beach's ultimate craft beer and growler store. With 20 rotating taps from local brews and regional and national brews, this place is bound to satisfy every beer lover!
Reallygoodbeerstop.com
Fresh Thread- Formerly known as "Fresh Screen Prints" was founded in 2012 by brothers Jerry and Jason Rodriguez, who are also the owners of Strata Clothing. This is a printing company that specializes in quality t-shirt printing, embroidery, and sublimated pop-up event tents. I have seen them create some really unique designs for hats, gym bags, and tons of other gear. They also sponsor tons of local events. Some of their clients include: American Red Cross, Jax Beach Ocean Rescue, UNF Athletic Department, UNF Ultimate, UNF Surf team, UF Surf team, UNF Skate team, Kappa Sigma, Pi Kappa Phi, Zeta, Delta Gamma ΔΓ, Jax Beach Crossfit total control, The Crazy Carls, Dirty Heads, Pro Camps, and University of Florida. Their prices are super competitive, and their turn around time is outstanding. If you, or anyone you know needs any screen printing or embroidery, I highly recommend them. They have an awesome team of Sales Reps, Graphic Designers and Printers/Processers. I currently send all of my orders to Dane Boggs, as he is highly responsive, and he takes the time to work hand in hand with their designer to create exactly what it is I am asking for.
Dane@freshscreenprints.com  ۰https://www.facebook.com/freshthread/?fref=ts۰ strataclothing.com
Cinotti's-  Cinotti's is a fifth-generation bakery that originated in Cleveland, Ohio over 65 years ago by Nick Cinotti. Thankfully for us, the family relocated to Jacksonville and opened their doors to us in 1964. Currently, his family and grandchildren Mike, Doodle, Michelle, Melissa, and Kenny, keep the establishment what it is today. Their dedication to their family and their faith has played an active role in making Cinotti's the success that it is today. Stop by and try their cookies, cakes, pies, Danish and donuts. They have everything to satisfy your sweet tooth. Cinotti's also serves lunch and breakfast!
www.cinottisbakery.com
Bali Cargo Company-  This is one of my absolute favorite shops. It is perfect for gifts, or even to pick up a thing (or five) for yourself. This place is so unique, because most of the items here are made in Balinese homes or small workshops. Kim travels to Bali to work alongside the families who create these goods, in order to craft new products. She hand picks each item that goes into her store. Here, you can find anything from jewelry, to candles, to home décor, and even larger pieces of furniture. There really is nothing like this place around, and when it comes to gift giving, you'll never have to risk buying the same gift as someone else. Check it out!
Written By: Ashton McKee (Property By Ford)
Re/Max WaterMarke
Lee Ford
Property By Ford
Re/Max WaterMarke
922 3rd St. N
Jacksonville Beach, FL 32250
Cell: 904-528-1313
Office: 904*853-6240
propertybyford.com